Komidia is No.2 of 4 in the Twilight series of prints and downloads. The Komedia, in Gardner Street in Brighton, is a cinema and theatre venue.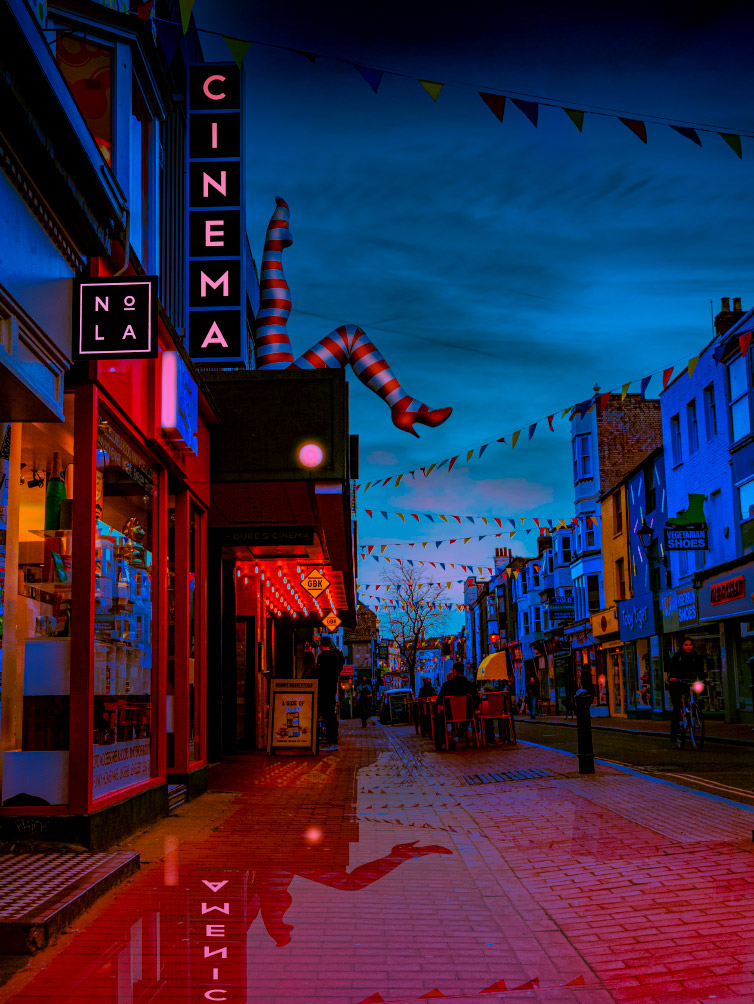 The Komedia wasn't always a cinema. Back in the 80's it was the first £pound shop in Brighton (well. 50p to be precise) a cheap alternative to Woolworths. It was a walk-around store set on 2 floors selling every knick-knack you could possibly want (and a lot of that you didn't) or need for 50p.
It changed hands in the early 90s and was purchased by the good people of the Duke of Yorks cinema. Later becoming Komedia. I have played here in a production of Voodoo Vaudeville with Chris Cresswell, seen some great bands here, and danced the night away a couple of times.
So glad I was finally able to capture Komeida's essence as a composition.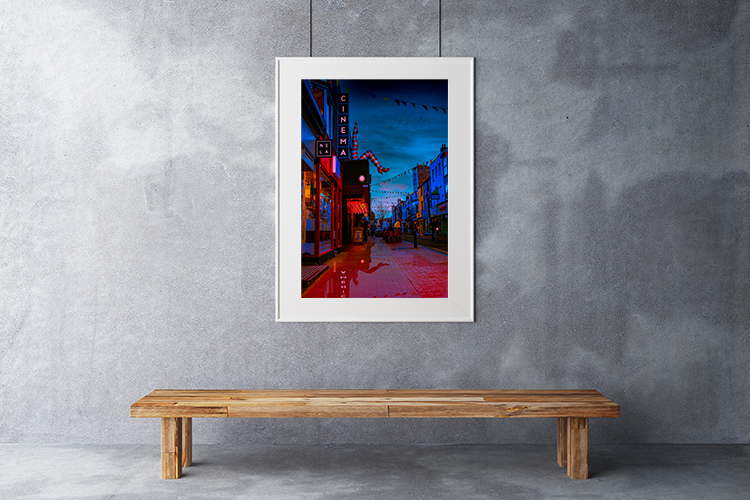 The 'Twilight' series came about because of the original photo I took on my phone of this capture or perspective. I later returned with my DSLR camera and waited for the light to dim and the Komedia lights to come on to get the shot. I have probably spent up to 50 hours getting this the way I wanted it. Edit after edit in Photoshop & Lightroom. Until I actually gave up. A few days later I looked at it and applied a gradient layer and solid colour mask to it and one final contrast adjustment in Lightroom and this is the result.
Own This Print
Printed on Hahnemühle Printing Paper
Hahnemühle's authentic Fine Art paper is regarded as top-of-the-line. It is often used for exhibitions and limited-edition art prints. All Hahnemühle papers have been certified by independent institutes to be highly resistant to aging and are vegan, in order to meet the highest requirements.
Also available as a digital download for £10