"When you come out of the storm, you won't be the same person who walked in. That is what this storm is all about." – Haruki Murakami, 'Kafka On The Shore,' 2002.
I've worked in Gardner Street, drank, ate, and got merry on quite a few occasions. I've met girlfriends there, gigged there, and performed with a theatre group there, and now I have finally photographed it and created this composition.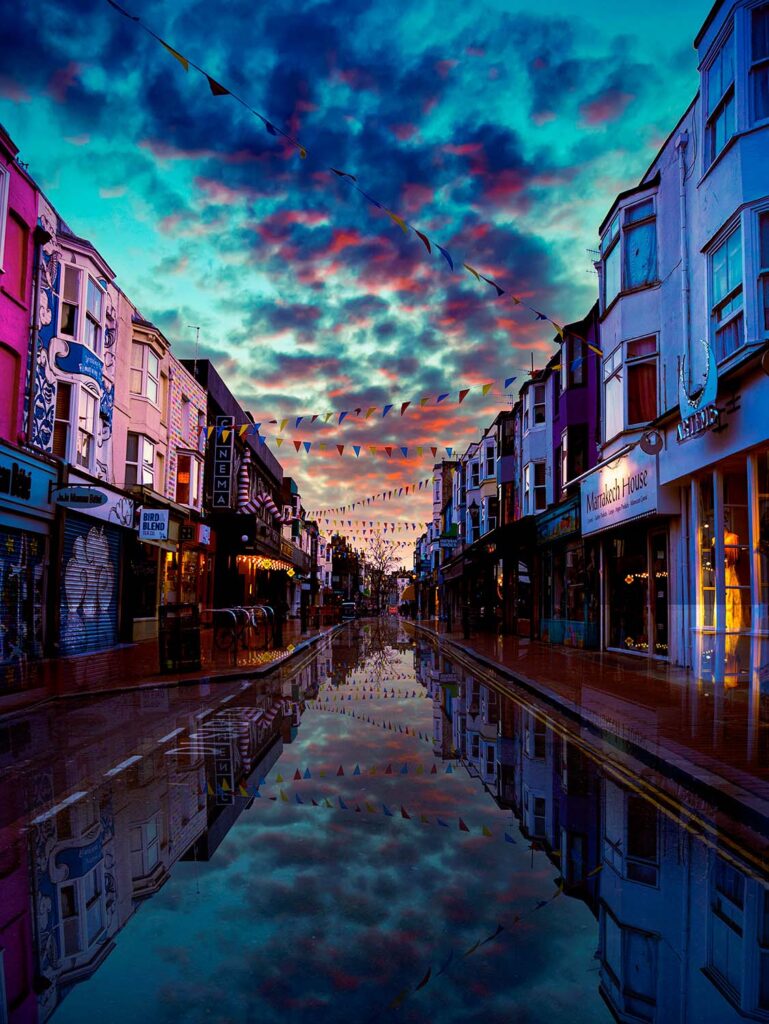 The Early Days
Back in 1988 and the second summer of love ushered in the Acid House revolution in music. I knew Carl Cox back then, he even DJ'd in our shop window 'HIT" on a Saturday. This was all before he was famous of course. But there were all sorts of people in Gardeners Street's shops, pubs, and cafes back then. Probably the best cowboy boot shop in the UK called R.Soles, which is now the Vegetarian Shoe shop, and the Komedia ( as mentioned in another post) was the 50p walk-a-round indoor market.
Latter Days
The Dorset was my local, on the corner of Gardner Street and North Road. Mark the then landlord was a bandmate in the Rockabilly stuff I was drumming for. There was our very own rehearsal studio upstairs. Then there is Jump The Gun, owned by my friend Adam, great for original Chelsea Boots.
I don't drink alcohol anymore so, don't really get to partake in the crazy nights anymore, not than anyone else does with the pandemic either.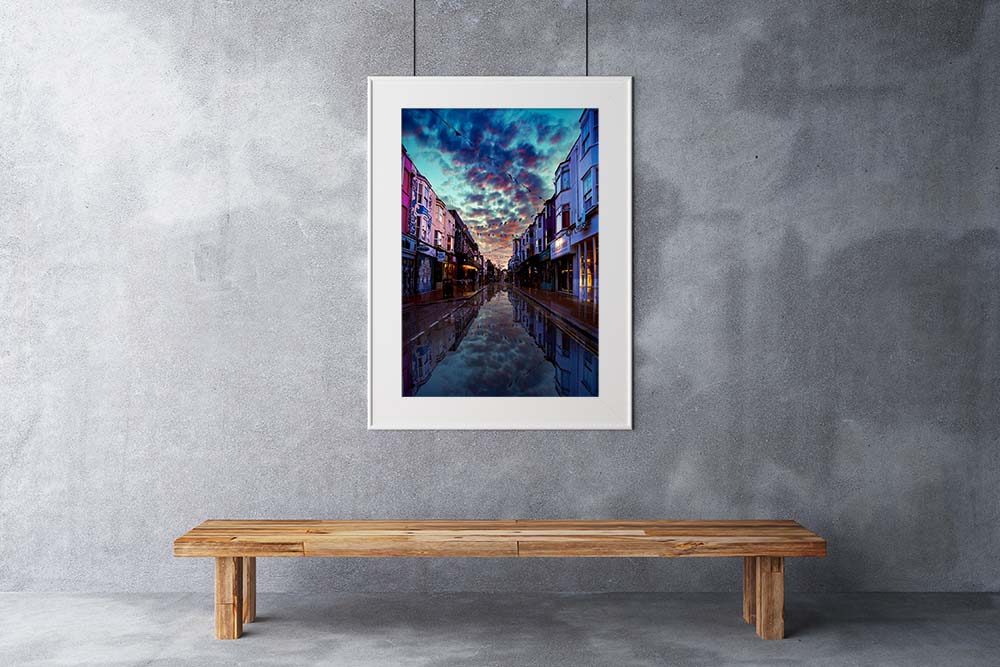 The Shot
I have always loved Gardner Street, along with Bond Street, it's my favorite thoroughfare in Brighton. I was itching to get a composition done. I too k the original with my phone to do some tests with Photoshop and see what possibilities came out of it, then went back (as seems to be my modus operandi) with a Lumix DSLR and took this shot in ultra-high resolution RAW format. Thats when I cast my Photoshop want and created this piece.
This has been and still is popular on social media and still getting shared. I'm pleased about this because on a personal level, some of my best memories of Brighton are captured in this work. Each like and share it receives just seems to pay homage to a wonderful period of my life.
Own This Print
Printed on Hahnemühle Printing Paper
Hahnemühle's authentic Fine Art paper is regarded as top-of-the-line. It is often used for exhibitions and limited-edition art prints. All Hahnemühle papers have been certified by independent institutes to be highly resistant to aging and are vegan, in order to meet the highest requirements.