"The 1970 "Black Sabbath" World Tour included a date at the Jephson Gardens Pavilion on 17 May 1970" – Wikipedia

The Jephson Memorial composition isn't in any way a tribute to Black Sabbath or the cover of the Ocean Colour Scene album Moseley Shoals? These are just incidental happenings that have taken place around the Jephson Memorial.
The Jephson Memorial with a statue of Dr. Henry Jephson on a plinth within the circular, domed temple. 1848-1849. Temple by DG Squirill, statue by Peter Hollins. Carrara marble statue on a Sicilian marble pedestal in sandstone ashlar temple with lead roof and cast-iron grill. Rustic plinth.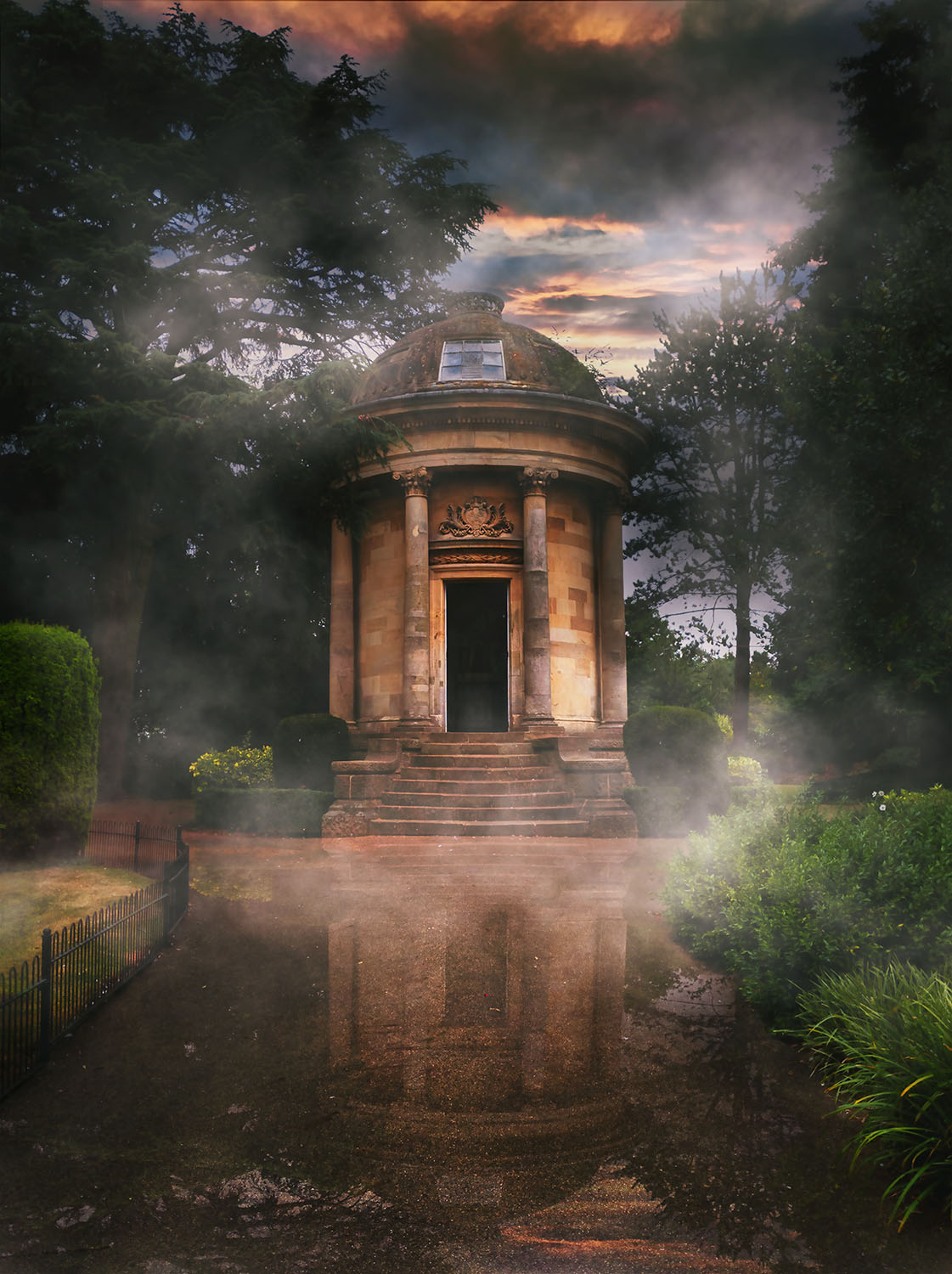 The Jephson Gardens
If you ever get a chance to visit Queen Victoria's favorite town of Royal Leamington Spa, please do. You won't regret it. Leamington Spa is a beautiful, bohemian mix of the old town and new, connected directly to the historic town of Warwick by the River Leam.
The historic old town was built around the tourist trade bought by the popularity of the Spa waters and the Pump Room baths. Leamington has also been voted the best place to live in the Midlands.
Queen Victoria
It was Queen Victoria's frequent visits that gave the Monika of 'Royal' to Leamington Spa. A statue has been erected in her memory on the Parade, outside the magnificent Town Hall.
It's all Folly
I grew up playing in the Jephson Gardens. Most of the kids I grew up with, and most of the adults for that matter, did not know what the strange mini-temple like Folly was. Not until I was older that is.
On my recent return to Royal Leamington Spa, I decided that it would be a good idea to pay my respects to Dr. Henry Jephson, to who the memorial is built in tribute.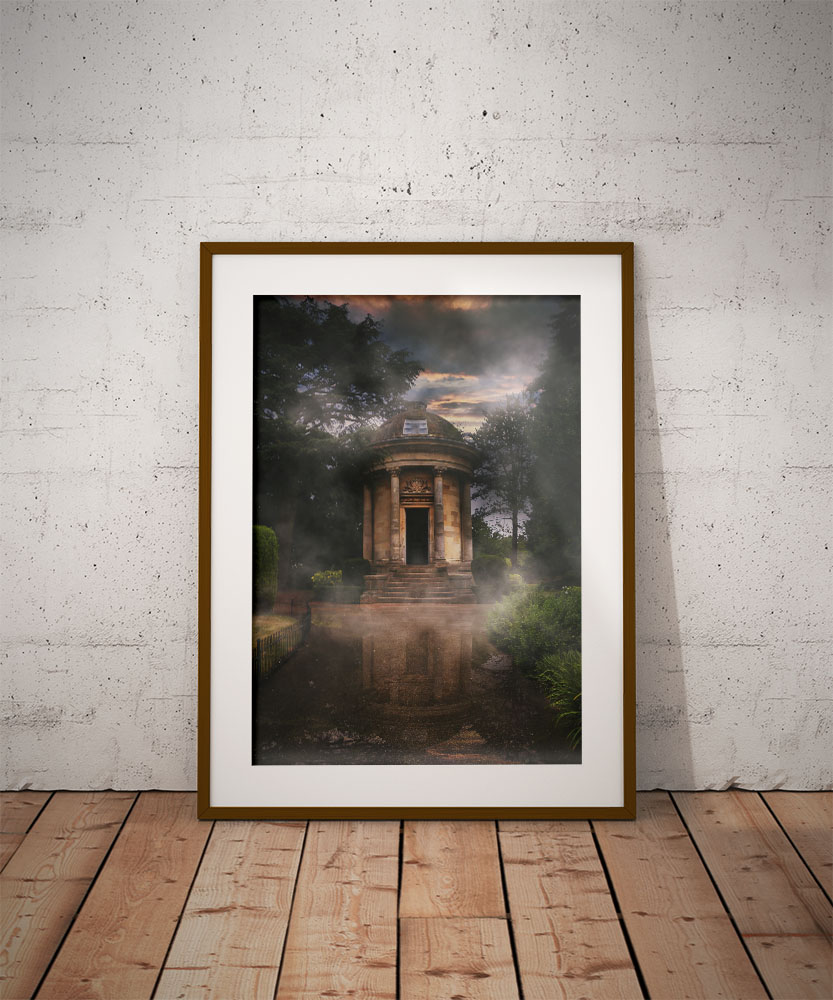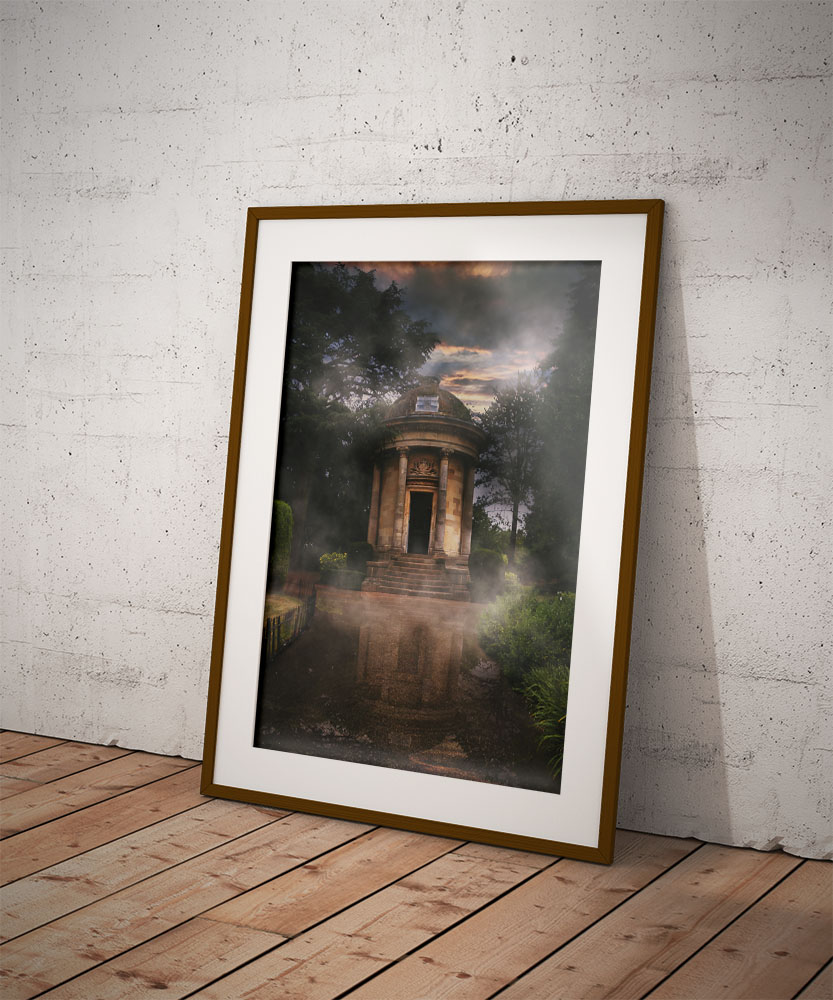 Dr. Henry Jephson
I could do lots and lots of research and explain it all to you here, but alas, this is not a tourist information website! So, instead of me plagiarising other people's hard work and research, here is a link to the Historic England site.  This will tell you all about Dr Henry Jephson and the beautiful memorial that was built in his name.
The Look & Feel
I took the photograph in September 2021 in high-res RAW, I took some time getting the perspective and balance right. Once achieved, I then created the layered ambiance and luminosity. The hard bit was cresting the mist and the fog. I wanted to give the composition a mystical aura, as this is just how I remember it as a kid.
---
Own This Print
Printed on Hahnemühle Printing Paper
Hahnemühle's authentic Fine Art paper is regarded as top-of-the-line. It is often used for exhibitions and limited-edition art prints. All Hahnemühle papers have been certified by independent institutes to be highly resistant to aging and are vegan, in order to meet the highest requirements.