History
The former parish hall for All Saints Church was built around 1905 to replace a previous non-conformist chapel on the site.  Dating from 1829 (with "seats for 450" according to the 1887 1:500 plan), which had been demolished in 1902.
It served as a community centre, and one of its uses was as a temporary theatre for the Loft theatre company after the Colonnade Theatre was destroyed by fire in 1963. In 1981 the hall was bought by the local Sikh community for social and cultural activities.  Before being sold by them following their move to a new site on the Queensway Trading Estate. (Source: https://www.geograph.org.uk/photo/5308407).
1 Mill Street
I was born just around the corner from 1 Mill Street. I now live just up the road after moving back to my beautiful hometown from Brighton.
As mentioned in the opening quote, This grand building facilitated various occasions of my ancestors. I remember it as a kid at The Sikh Community Centre (where you'd hear the most amazing music editing from).
The building is now a Co-working space for startups and entrepreneurs. I'm actually working here and typing this from within its walls right now. There is a great energy about the place, good and passionate people, and some great ideas. It's what I expect a premium Co workspace to be.
I've worked in co-work spaces all over SE Asia, but have to say that 1 Mill Street, here in Leamington Spa is with the best of them. Thanks to Nigel & Dessie Shanahan and their vision to transform this building and give south Leamington something to be immensely proud of. Read more here about the transformation of the building and Nigel & Dessie's vision.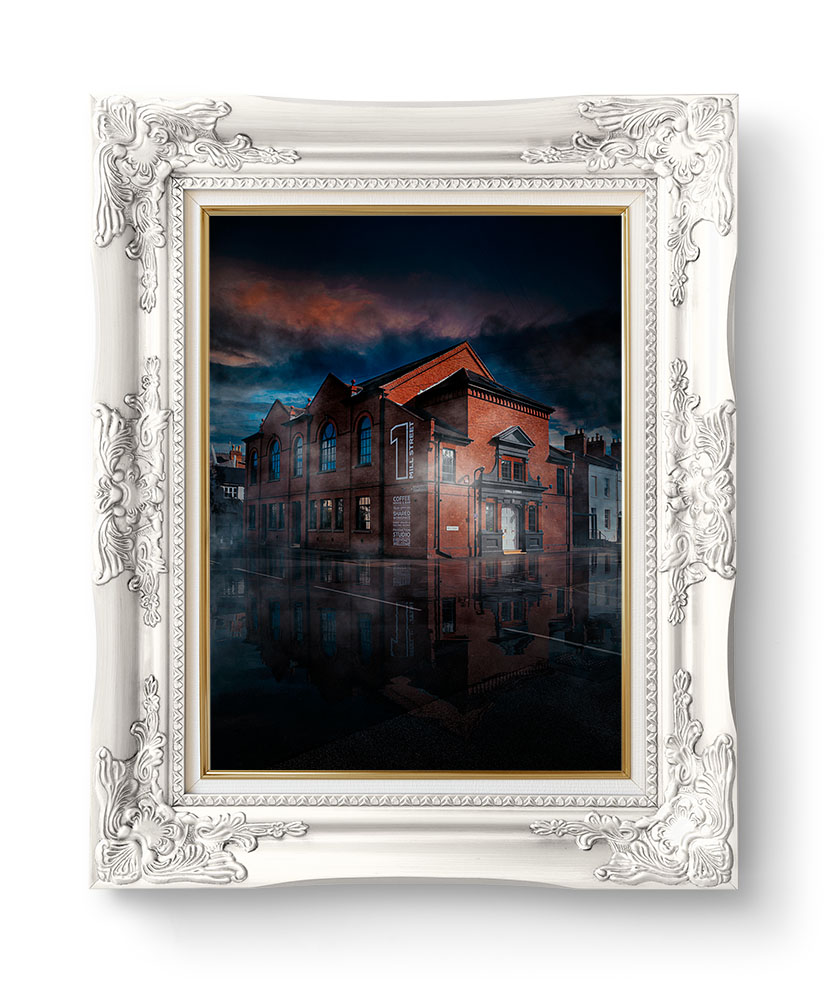 The Shot
I wanted to pay my own homage to 1 Mill Street due to my historical connection and for the fabulous work that has been done to make the building look like it does today.
I was passing a couple of Sundays ago, it was a bright day and I was on my way back from a stroll around Jephson Gardens. As I walked past 1 Mill Street, the light caught the front of the building and cast the Leam Terrace side into a warm red shade.
This is the bit where I have to apologize to all those photographers with £3000 cameras and massive lenses. I took this with my Google Pixel 3XL phone, set to RAW mode, (very high resolution).
The Look & Feel
I was quite excited to get home and check over what I captured, I want disappointed. The shot came out beautifully. It was then over to Photoshop. I didn't use Lightroom as PS already has Camera Raw embedded into the program.
I used 3 luminosity masks to create the depth between the high, medium, and dark tones. This allowed for a feeling of distance and perspective. Then it was onto the lighting. I used about 10 adjustment layers for hue, saturation, curves, and levels. I used one of my (secret) reflection techniques and then spent the evening applying about 15 lanes of mist and fog. This I created the old-fashioned way by using the Difference Clouds filter set to a mask and filled with varying degrees of white opacity layer.
OK, if you are not asleep by now, thanks for staying with me. I get asked a lot about my photoshop techniques, so thought I'd give a quick overview. These technics have taken me decades to fully master, so don't expect to be jumping straight into Photoshop and replicating the above. There is so much more to getting a composition like 1 Mill Street spot on.
Own This Print
Printed on Hahnemühle Printing Paper
Hahnemühle's authentic Fine Art paper is regarded as top-of-the-line. It is often used for exhibitions and limited-edition art prints. All Hahnemühle papers have been certified by independent institutes to be highly resistant to aging and are vegan, in order to meet the highest requirements.
Also available as a digital download for £10